ABOUT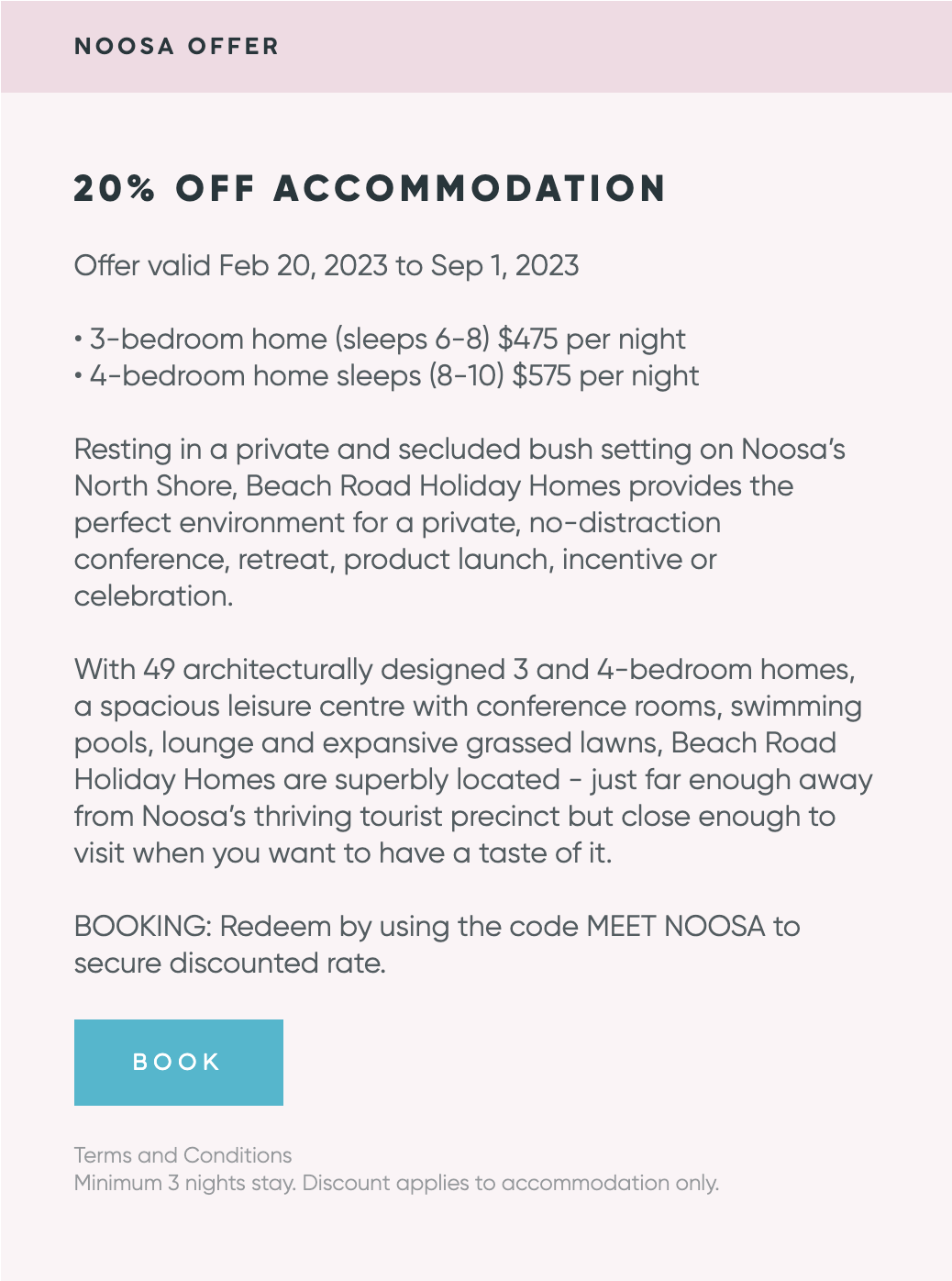 Nestled amongst the bush and only 1.5km away from the beach is Noosa's best-kept secret, Beach Road Holiday Homes. Step away from everyday life, disconnect and take time to immerse yourself in nature and relax.

Located on the spectacular Noosa North Shore, Beach Road Holiday Homes boast 68,000 hectares of National Park and picturesque beauty - the perfect setting for that executive retreat experience that bonds teams, creates memorable experiences and lifts the spirit of the group.
Various options and styles of conference rooms will keep your meeting fresh and exciting. Varied catering options are available, with some of Noosa's finest chefs catering exclusive private dinners, along with a healthy variety of lunch options. The Village Green is perfect for that spectacular product launch or gala event. All tipis or marquees fit on the manicured lawns.
With multiple properties on-site, there is endless potential and flexibility to build the perfect retreat or conference to suit your organisation's needs. One beach house can be set up as the main base, with flexible conference room options within this house to accommodate up to 60 guests, while additional houses can be set up for specific accommodation requirements.
The communal areas feature four swimming pools including a lap pool, heated spa, poolside lounge, tennis courts and recreation lounge. Catering options are varied and include a private chef with bespoke menus and wait staff, breakfast hampers delivered to each house, dinner BBQ packs, and a weekend getaway option to the local tavern.

Additional wellness services can also be organised, including sound healing, yoga, meditation and cooking classes.
Why we love it:
3 meeting rooms inside houses
Lounge area available for sessions in the Leisure Centre and one multi-purpose room
3 and 4-bedroom self-contained beach houses
Complimentary Wi-Fi in accommodation rooms
Pool complex including a lap pool
Several walking tracks including a 1.5km track to the beach
Village Green area can cater for marquee events 200 pax +